OPEN HOUSE – JUNE 1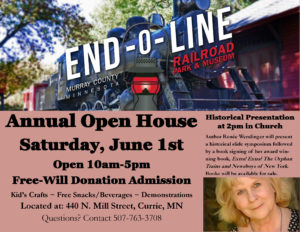 OPEN HOUSE – June 1, 2019
10:00 a.m. – 5:00 p.m.
Start the summer off by bringing the whole family to End O Line Railroad Park and Museum in Currie for our annual Open House. The park will be open from 10am-5pm. Normal admission to the park will be waived for the day. All buildings will be open to tour on your own with volunteers/staff around to answer questions. Throughout the day there will be children's crafts, free treats and beverages, and different historical demonstrations (schedule of those TBD).
At 2pm in the Presbyterian Church, Author Renée Wendinger will present a historical talk followed by a book signing of her award winning book, "Extra! Extra! The Orphan Trains and Newsboys of New York" talking about the Orphan Train in Minnesota. Books will be available for sale at the talk and in the park gift shop in the days prior.
Any questions can be directed to the park at 507-763-3708 or endoline@co.murray.mn.us